Poonam Promises To Get Dirtier Than Vidya Balan
Mumbai, Jan 30: Poonam Pandey, the model who loves to court cotroversies, has said that she would try to get dirtier than Vidya Balan in her forthcoming  movie loosely based on her life, says a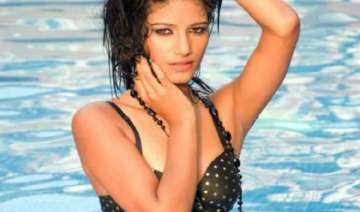 PTI
January 30, 2012 14:24 IST
Mumbai, Jan 30: Poonam Pandey, the model who loves to court cotroversies, has said that she would try to get dirtier than Vidya Balan in her forthcoming  movie loosely based on her life, says a media report.

Says Poonam : "My role in the film is quite glamorous and the character is very close to what I am in real life."

"I promise to get dirtier than Vidya Balan in The Dirty Picture...I don't think there is any bikini left in the world that I haven't worn.

"I can even shop in a bikini and, of course, if the role demands it, I will wear one too.

"I want to do something no one in the industry has ever done before", says Poonam.

In an industry flooded with foreign models-turned-actors like Angela Jonsson, Amy Jackson and Lisa Haydon, Poonam is confident about herself .

" These are all firangi faces and they are clearly not my competition.

"I am not making these statements because I am overconfident, but because I know that no one can compete with me".

Poonam, says she began taking acting classes early on in her modelling days, but "it is belly dancing that got me really moving."

"Though I've received a lot of offers to do item numbers, I am not keen to make it big that way"

There is one star Poonam wants to work  with.
"I would love to do a film with Ranbir Kapoor".