Pryanka, Shahid Split
The Kaminey couple, Priyanka Chopra and Shahid Kapur are no longer together, according to media reports.  The relationship, which was a closely guarded secret has gone kaput with Shahid reportedly the one who called time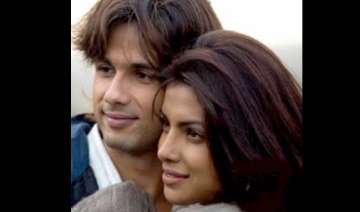 PTI
November 10, 2009 16:35 IST
The Kaminey couple, Priyanka Chopra and Shahid Kapur are no longer together, according to media reports. 
The relationship, which was a closely guarded secret has gone kaput with Shahid reportedly the one who called time on the union leaving Priyanka deeply hurt. 
Shasha and PC first met on the sets of Kaminey where their love blossomed as the film was shot. 
According to sources, Shahid wasn't as committed to the relationship as Priyanka was and his reserved nature was clashing with Priyanka's flamboyant character, which led to fights.
The entire situation has affected the suave actress so much that quite often she fell sick in recent months. The pressure was too much for her and the relationship wasn't going well.
Now Priyanka's friends are helping her get over the break up and she was recently seen offering prayers in Ajmer Sharif.