Rahul Mahajan Screening Each Girl For Dulhania
Late BJP leader Pramod Mahajan's son Rahul is serious about getting married again  through the reality show, Rahul Dulhania Le Jayega. Unlike Rakhi Sawant, Rahul Mahajan is taking active interest in all the girls who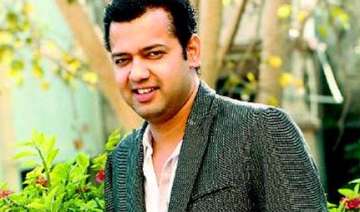 PTI
November 10, 2009 16:30 IST
Late BJP leader Pramod Mahajan's son Rahul is serious about getting married again  through the reality show, Rahul Dulhania Le Jayega.
Unlike Rakhi Sawant, Rahul Mahajan is taking active interest in all the girls who audition for the reality show through which he is slated to marry the winner.
Rahul approves and rejects girls, and the channel accordingly alters the list of contenders.
Rahul reportedly told the channel that he would like to be present at the auditions. However, this was not easy as the auditions are held in different cities. To this, Rahul made it very clear that he will still like to see all the girls, and so, he frequently visits the channel's office to view the audition tapes.
Shailaja Kejriwal, EVP content of the channel, said, "Yes, Rahul does see each and every girl who has come for auditions on the tapes. He judges them by their looks. But what's he's also concerned about is whether she comes across as a genuine person or not. If he doesn't like a particular girl, her name is struck off the list. Rahul is very cautious that the girls who apply don't do so just to use the show to gain publicity. The casting agency questions the girls about their intentions to participate in a show of such nature."
But what if Rahul decides to pull a Rakhi and change his mind, thus turning the swayamvar into a joke?
"Rakhi and Rahul are two different people. It would be unfair to put them in the same bracket," Shailaja said.
 A friend of Mahahjan added, "Audition dekh kar kafi kuch pata chal jata hai ki ladki kaisi hogi. Dulhan wohi banegi who deserves to be Mrs Mahajan."