Shah Rukh Plants A Kiss On Kat's Cheeks
Mumbai, Jan 17: Bollywood superstar Shah Rukh Khan planted a kiss on  Salman's former girlfriend Katrina Kaif's cheeks at the Color Screen Awards nite. Chikni Chameli looks too shocked to react, when Khan casually walked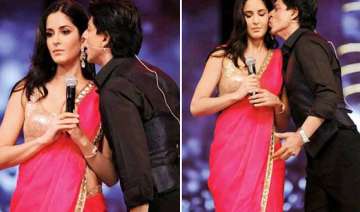 PTI
January 17, 2012 14:05 IST
Mumbai, Jan 17: Bollywood superstar Shah Rukh Khan planted a kiss on  Salman's former girlfriend Katrina Kaif's cheeks at the Color Screen Awards nite.

Chikni Chameli looks too shocked to react, when Khan casually walked over and planted a kiss on her cheeks at the event.

Though Salman Khan was not a part of the event, yet Karina gave SRK a frozen look.   Why this Kolaveri D?