Shilpa's Honeymoon In Bahamas Resort
Bollywood actor Shilpa Shetty will move with Raj Kundra for their honeymoon at a resort in the  Bahamas after their wedding (November 22) and reception (November 24), according to media reports.  A source close to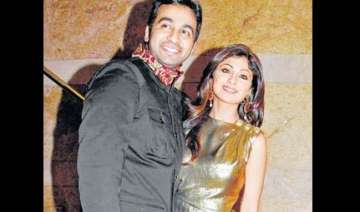 PTI
November 17, 2009 13:46 IST
Bollywood actor Shilpa Shetty will move with Raj Kundra for their honeymoon at a resort in the  Bahamas after their wedding (November 22) and reception (November 24), according to media reports. 
A source close to Shilpa says, "Raj plans fantastic vacations and this is one holiday he wants Shilpa to remember forever. Though Shilpa knows Raj has booked the Regal Suite for them at the Atlantis resort in the Paradise Islands at the Bahamas, everything else is a surprise for Shilpa. Raj is arranging everything."
The source adds, "Shilpa has never been to the Bahamas, so it will be very special for her. Raj zeroed on this location after finding out where Shilpa has been before and what her favourite holiday destination is. He spent lot of time, planning and money on finding the perfect honeymoon spot for Shilpa."
Shilpa and Raj will get married at Kiran Bawa's farmhouse in Khandala and will hold a grand reception in Mumbai after which they will fly down to the Oneness Temple near Chennai to seek the blessings of Sri Amma and Sri Bhagwan. After spending a few days there, the couple will fly off to the Bahamas for their honeymoon.
The Atlantis Bahamas resort on Paradise Island has the world's largest marine habitat, the largest casino in the Bahamas (and the Caribbean,) a 15 million-dollar marina, lagoons, waterfalls and the underwater ruins of Atlantis itself. There are three hotel options to choose from; the Coral Towers, the Beach Towers or the Royal Towers. One of the highlights of the water park area is the Mayan Temple Water Slides which includes pools, lagoons, grottos, waterfalls and a Mayan temple with archeological dig site of the lost city of Atlantis.
For many of us who thought that Shilpa Shetty's wedding will not be a star-studded affair, here is a surprise. 
Her list of invitees for the wedding was restricted only to close family members and the actress thought of getting married without the usual Bollywood razzmatazz in Lonavla. She planned to invite her friends from the industry only to her grand wedding reception party in Mumbai on November 24. 
But as per reports, Shilpa has especially invited Jermaine Jackson for the wedding on November 22. Shilpa and Jermaine became good friends during the 'Big Brother' show. Jermaine constantly supported her and as a result their bond grew stronger. In fact, when Jermaine recently visited India, both Raj and Shilpa played a perfect host to him and his wife. So the presence of Jermaine is expected at the wedding. 
There is another little surprise up in store with the name of Shane Warne being touted. Shilpa's IPL team's captain and former Australian cricket star can also be there on the wedding as he is apparently Shilpa's special guest No.2.  Expect more surprises in Shilpa's guest list in the coming days.