Victoria Gifts David Beckham Piglets As Christmas Gifts
Popstar-turned-fashion designer Victoria has gifted her soccer star husband David Beckham piglets as an early Christmas present. Victoria, popularly knows as Posh, has paid 1,400 pounds for two pot-bellied Gloucester Old Spot cross-breed species of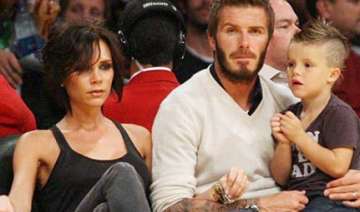 PTI
November 05, 2009 10:07 IST
Popstar-turned-fashion designer Victoria has gifted her soccer star husband David Beckham piglets as an early Christmas present.
Victoria, popularly knows as Posh, has paid 1,400 pounds for two pot-bellied Gloucester Old Spot cross-breed species of the animal for David, Mirror online reported.
"What can you possibly buy the multi-millionaire, superstar footballer who has absolutely everything? In the case of David Beckham, the answer is, obviously, a pair of cuddly designer piglets," a source said.
"Victoria fell in love with them and realised she'd found the perfect present," the source added.
The former Spice Girls star was said to be particularly keen on the pigs -- which David wants to name Pinky and Perky after characters in a children's TV show -- because they are easy to house-train.
"Micro pigs are incredibly clean and easy to train. They will be given the run of the place and could even end up watching TV on David and Victoria's laps," the source added.
The couple, who have three children, Brooklyn, 10, Romeo, seven, and Cruz, four, are not the only stars to think pigs make perfect pets.
Earlier this month, hotel heiress Paris Hilton got a micro-pig called Miss Pigelette, while 'Harry Potter' star Rupert Grint has adopted two of the animals. PTI