Victoria More Hot Than Ever
Rio Ferdinand's hot recruit Victoria Moore is back in her pants for another scorching set of snaps, says a report in The Sun, London.  With only strips of sticky tape protecting her modesty, Victoria, one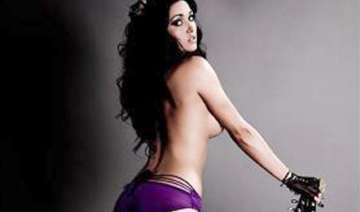 PTI
November 03, 2009 13:40 IST
Rio Ferdinand's hot recruit Victoria Moore is back in her pants for another scorching set of snaps, says a report in The Sun, London. 
With only strips of sticky tape protecting her modesty, Victoria, one of Manchester United's defender's flagship pin-ups from his #5 online mag - demonstrates just why Rio and his "team" secured her signature. 
It's a team effort. "The women are all doing really well. Victoria Moore is fantastic - it was a no brainer putting her in. 
"She's got a great story - that's why she's in the magazine. She went to Vegas and won a Playboy competition. Then she got featured in a calendar."
Asked if he'd feature his boss Alex Ferguson in the mag, he said: "It would be good but Sir Alex is too busy to appear, I'm sure." Surely no one wants to see Fergie straddling an amplifier in his undies.