Bigg Boss 11: Bandgi Kalra's brewing romance with Puneesh Sharma is making her boyfriend upset
In one of the episodes of Bigg Boss 11, Puneesh was seen kissing the hand of Bandgi Kalra.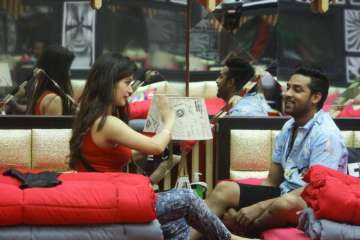 Written by: India TV Entertainment Desk
New Delhi
October 12, 2017 9:29 IST
One of the popular shows of small screen, Big Boss 11 is back and it has once again started to rule the TRP charts. In almost every season of the show, viewers have witnessed love birds in the house. This time Bandgi Kalra and Puneesh Sharma are trying to gain everybody's attention with their sweet little things. Both of them are seen spending quality time with each other in every episode. This has left people wondering that there is definitely something brewing between the two.
But, it seems like the lady's activities in the house are affecting her boyfriend Dennis Nagpal. Dennis retweeted a tweet which reads that Bandgi is cheating on her beau. He also wrote 'True'.
Well, people don't know that Dennis is friends with Puneesh and it is said that Dennis was the person who brought Bandgi and Punessh on board of the show.
Puneesha and Bandgi are doing every possible thing to keep the audience hooked. Few days back, they were seen saying that the only way to survive in the show is to fake their love. Viewers will come to in the next episodes if they are just pretending or really have feelings for each other.
This week, Hina Khan, Vikas Gupta, Sapna Chaudhary, Sshivani Durga and Jyoti Kumari have been nominated.