Bigg Boss 11 contestant Priyank Sharma's ex-Divya Agarwal: People used to see DivYank as an inspiration
After Puneesh Sharma and Bandagi Kalra's proximity on Bigg Boss 11, Priyank Sharma and Benafsha's closeness is turning heads on the show.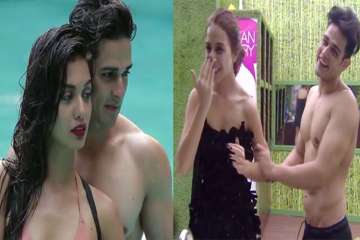 Written by: India TV Entertainment Desk
New Delhi
November 15, 2017 16:16 IST
In the latest episode of Bigg Boss 11, Priyank and Benafsha were seen sharing beds, which raised many eyebrows on the show. Even Priyank and Benafsha were also many times seen discussing that there is something more than friendship between both of them. 
And now Splitsvilla ex-contestant and Priyank's ex-girlfriend Divya bashed out at him and said, ''People used to see DivYank as an inspiration. If he had kept the sanctity of our relationship, people would have respected him more.''
Divya is quite upset with Priyank's closeness with Benafsha on Salman's show Bigg Boss 11. Divya earlier also wrote, ''Divya Agarwal ( Priyank's girlfriend who's ex from yesterday ) : If Priyank falling for Ben is for the show then it's a vahiyaat move.''
While, Divya in an interview with a leading daily also said, ''Priyank is a nice guy and a lovely person to be with but I cannot adjust with such a person anymore. I cannot see myself getting hurt anymore. After today's episode, I am fed up. I am a little orthodox but this is not fair. I feel cheated and I would like to end this right now", Divya concluded her statement.''
Read the post here: