Get stylish with perfect sunglasses
Stylish personality is a dream of many and right sunglasses can give you the look you want. But, there are some important things that you should remember while buying a perfect pair of sunglasses. If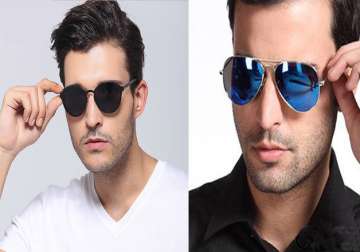 India TV Lifestyle Desk
New Delhi
December 28, 2016 11:22 IST
Stylish personality is a dream of many and right sunglasses can give you the look you want. But, there are some important things that you should remember while buying a perfect pair of sunglasses. If you are confused, then here are some tips from the experts to help you choose the right sunglasses.
Ganesh Iyer, Country Head at Coolwinks, an online portal for purchasing quality eyewear, rolled out a few tips for you to buy the right kind of sunglasses:
1.    The ultimate aim of using sunglasses is to protect your eyes from ultraviolet light emitting from sun. Don't let this reason sit on the backseat and make sure your sunglasses provide UV protection.
2.    The size of your frame is compatible to the size of your face. Your sunglass' frame size should closely mirror the face size. Smaller frames work better with a smaller face and vice versa. Determine you face shape and then go for your sunglass shopping.
3.    Frame material plays a critical role in the comfort, usage and care for your sunglasses. Each frame material comes with its own advantages and disadvantages. There are various material options available in the market from metal, nylon to plastic and titanium.
4.    Add more glam to your sunglasses by opting for very-much in-trend tinted sunglasses contributing to UV protection. A huge range of tinted lenses is available in market like green, gray, brown, yellow, gold, rose and blue.
5.    When buying eye wear, quality counts, and makes sure it is timeless.
(With IANS Inputs)