Feeling negative before exams? It could improve your performance
The feeling of stress and negative moors before exams is not a new phenomenon. But little did anyone know that it could boost performance. A new research has found that students who experienced occasional negative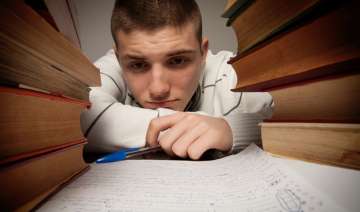 India TV Lifestyle Desk
Toronto
December 06, 2016 10:24 IST
The feeling of stress and negative moors before exams is not a new phenomenon. But little did anyone know that it could boost performance. A new research has found that students who experienced occasional negative moods perform better than their peers.
The study found that students who were mostly happy but had negative mood swing occasionally had the highest grade per annum (GPA) at the time of graduation.
However, students with consistent negative moods and low level of positivity ended up scoring lowest GPAs -- a pattern consistent with depressive disorders.
"Students often report feeling overwhelmed and experiencing high levels of anxiety and depressive symptoms. The study shows that we need to teach them strategies to both manage negative emotions and stress in productive ways and to maintain positive emotional experiences," said Erin Barker, Professor at Concordia University in Quebec, Canada.
For the study, Barker and her team worked with 187 first-year university students. They looked at the students' response patterns to better understand how experiences of positive and negative emotions occurred over time.
The study also demonstrated that both negative and positive emotions play a role in our successes.
"We often think that feeling bad is bad for us. But if you're generally a happy person, negative emotions can be motivating. They can signal to you that there is a challenge that you need to face. Happy people usually have coping resources and support that they draw on to meet that challenge," Barker said, in the study published in the journal Developmental Psychology.
(With IANS Inputs)