People with protein in urine at higher risk of dementia, finds study
A study has found that people who have protein in urine- a marker of kidney problems- are at higher risk of developing thinking and memory skills or even dementia. Kay Deckers from Maastricht University in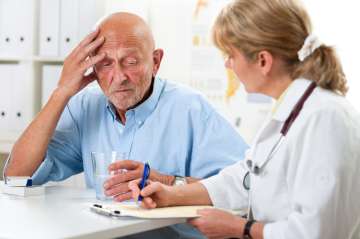 India TV Lifestyle Desk
London
December 16, 2016 10:16 IST
A study has found that people who have protein in urine- a marker of kidney problems- are at higher risk of developing thinking and memory skills or even dementia.
Kay Deckers from Maastricht University in the Netherlands said that kidney dysfunction is a possible risk factor for cognitive impairment.
The analysis showed that people with protein -- also known as called albuminuria or proteinuria -- in the urine were 35 per cent more likely to develop cognitive impairment or dementia than people who did not have protein in their urine.
"Protein in the urine was associated with a modestly increased risk of cognitive impairment or dementia," Deckers said.
"Chronic kidney disease and dementia share many risk factors, such as high blood pressure, diabetes and high cholesterol, and both show similar effects on the brain, so they may have shared vascular factors or there may even be a direct effect on the brain from kidney problems," he added.
In addition to analysis on albuminuria or proteinuria, the team also observed other markers of kidney function, known as glomerular filtration rate -- best test to measure your level of kidney function and determine stage of kidney disease.
The results were found to be mixed and did not show an association with cognitive impairment or dementia.
For the study, published online in the journal Neurology, the team conducted a meta-analysis of 22 studies on the topic, including 27,805 people.
(With IANS Inputs)