Arjun Kapoor on GQ: A dapper and proud actor
New Delhi: Arjun Kapoor has covered the January issue of GQ. And as dapper as the actor looks on the cover, the Tevar star has equally expressed his unleashed self inside the glossy too.Dressed up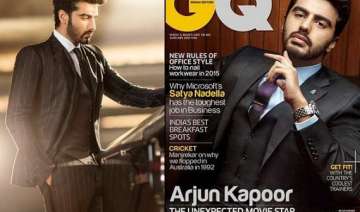 India TV News Desk
January 03, 2015 11:22 IST
New Delhi: Arjun Kapoor has covered the January issue of GQ. And as dapper as the actor looks on the cover, the Tevar star has equally expressed his unleashed self inside the glossy too.
Dressed up in a three piece suit and purple tie, Arjun speaks thousand words of proud and I-me-myself attitude from his expressions on the cover.
While the actor is gearing up for the release of his Sonakshi Sinha starrer Tevar, Arjun seems to have recently gone a bit more experimental with his fashion sense too.
In an exclusive chit chat with GQ, the actor has mentioned how stardom has affected his life and how vulnerable he feels to the popularity he has garnered.