Republic Day: How Obamas, Kiran Bedi and others ditch the rain
New Delhi: With the rain playing spoilsport, the dignitaries gathered at Rajpath to witness India's 66th Republic Day parade were forced to wear caps and take cover under umbrellas and raincoats.US President Barack Obama, the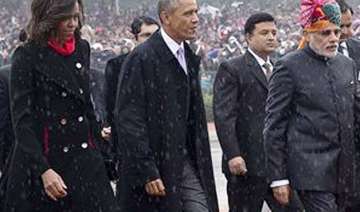 India TV News Desk
January 27, 2015 11:58 IST
New Delhi: With the rain playing spoilsport, the dignitaries gathered at Rajpath to witness India's 66th Republic Day parade were forced to wear caps and take cover under umbrellas and raincoats.
US President Barack Obama, the chief guest at the parade, and wife Michelle were seated in a roofless bullet-proof glass enclosure along with President Pranab Mukherjee, Vice President Hamid Ansari and his wife Salma and Prime Minister Narendra Modi.
As it started to drizzle, officials with huge, black umbrellas and members of the support staff standing next to them sprang into action.
While the Obamas held their own umbrellas, the Indian dignitaries and leaders attending the ceremony had their better halves or their official staff holding the cover for them.
Congress president Sonia Gandhi also held her own umbrella. Two seats away, Bharatiya Janata Party (BJP) President Amit Shah was seen taking shelter under an umbrella held by his wife.
Kiran Bedi, the BJP's chief ministerial candidate for next month's Delhi assembly polls, wore a raincoat.
Many dignitaries also donned caps to protect themselves from the cold and drizzle.
Mukherjee and Ansari sported fur caps, Finance Minister Arun Jaitley and senior BJP leader L.K. Advani wore golf caps while Modi wore a traditional and colourful Rajasthani headgear.