Be fashionable during pregnancy (see pics)
Right from celebrity new moms to royal moms, the journey of fashion has never been avoided. Here's a sneak peak at the fashionable journey of all the pregnant celebrities who refused to bid adieu to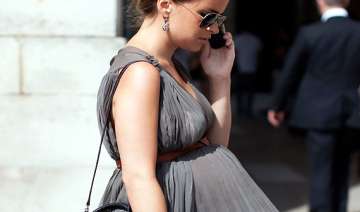 PTI
August 04, 2014 15:40 IST
Right from celebrity new moms to royal moms, the journey of fashion has never been avoided.
Here's a sneak peak at the fashionable journey of all the pregnant celebrities who refused to bid adieu to the fashion world.
Kim Kardashian:
The much talked celeb Kim chooses to adhere to the Fashion Police rule, 'Stay away from committing the crime of Fashion Faux paus'. This reality show celeb raised much attention when she came out wearing skin tight dresses around her heavily belly during her pregnancy. The star didn't even made a slight change to her wardrobe it seemed.
Shakira:
This singer too swears towards keeping up with her sexy wardrobe until her early pregnancy, soon the singer gave away all her tight T-shirts, and Skin fit leather pants and accommodated loose & airy maternity gowns and dresses.
Jessica Simpson
: The Star didn't shy away from showing her belly and over growing body in comfy clothes and dresses. Jessica Simpson made a statement saying" I'll enjoy my pregnancy, for me my baby is more important that fashion police".
Halle Berry:
The 'Catwoman' actress is seen here with daughter Nahla (born. 2008). The actress is seemed to enjoying a lovely stroll with her daughter wearing a skin fit green dress.
Kate Middleton:
The royalty has always been at their best when it comes to their wardrobe and the latest mommy-to-be Kate Middleton is keeping no stone  unturned to balance royalty and pregnancy altogether.