Deepika, Sonakshi, Kalki love for nude colour (see pics)
A nude colour dress is luxurious by definition. The elegant colour, combined with a dressy fabric-think silk, chiffon or satin and sometimes beaded adornments make such a dress a chic and timeless choice. Pick a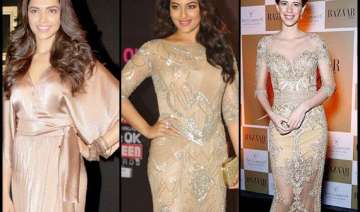 India TV News Desk
March 12, 2014 18:18 IST
A nude colour dress is luxurious by definition.
The elegant colour, combined with a dressy fabric-think silk, chiffon or satin and sometimes beaded adornments make such a dress a chic and timeless choice.
Pick a perfect shoe to match the class factor and you will be sitting pretty.
Our own Bollywood actresses can be seen wearing the pale hues at various events.  From Deepika to Kalki everybody seems to be flaunting their curves in these colours.