Fashion clash: Alia Bhatt and Shibani Dandekar spotted wearing same dress (see pics)
As they say, you always look good in other's clothes. Guess our Bollywood celebs are doing the same and have been going around repeating dresses already worn by others. Lately we have noticed many celebs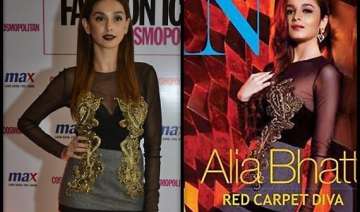 India TV News Desk
March 08, 2014 6:36 IST
As they say, you always look good in other's clothes. Guess our Bollywood celebs are doing the same and have been going around repeating dresses already worn by others.
Lately we have noticed many celebs copying the style and wardrobe of their contemporaries. Previously we unfolded how Deepika Padukone has been caught donning almost every red carpet dress that Hollywood divas flaunted on the red carpet this year.
And now we bring to you some 'desi' criminals in the fashion world...