Flower cakes a big hit in China
Beijing, Aug 12: Ever heard of rose petal-filling inside a cake. Termed a "relatively new seduction", the new product is being stocked on shelves upon shelves in supermarkets in China, and special booths have been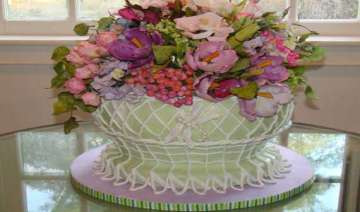 IANS
August 12, 2013 8:12 IST
Beijing, Aug 12:
Ever heard of rose petal-filling inside a cake. Termed a "relatively new seduction", the new product is being stocked on shelves upon shelves in supermarkets in China, and special booths have been set up at airports to sell "flower cakes" and nothing else.
Such cakes are catching the attention of tourists in Kunming and major tourist destinations like Dali and Lijiang in Yunnan province, the China Daily reported.
"The flower cake has been around for more than 20 years, but they had been mostly eaten locally. Traditionally, people in Yunnan looked at roses as food and flower cakes were eaten at breakfast and as snacks," said Zhang Chao, general manager of Yunnan Jiahua Food, currently one of the biggest producers of rose pastries.