Hugh Jackman took tips to build lean muscle
Sydney, July 14: Actor Hugh Jackman called up actor-wrestler Dwayne Johnson, popularly known as The Rock, to take tips on how to build lean muscle."The Wolverine" actor saw Johnson's well-built body in his movies, after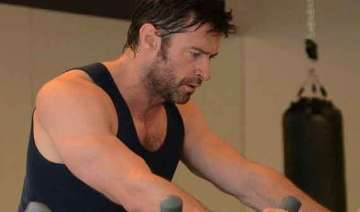 IANS
July 15, 2013 7:49 IST
Sydney, July 14:
Actor Hugh Jackman called up actor-wrestler Dwayne Johnson, popularly known as The Rock, to take tips on how to build lean muscle.
"The Wolverine" actor saw Johnson's well-built body in his movies, after which he called him up to find out how to get a similar body, reports eonline.com.
"I know Dwayne and I rang him and said, 'Buddy, I saw you in 'The Tooth Fairy' and then I saw you in an action movie and you are massive. How do you do it?'," Jackman said.
"He said, 'Okay, you want to put on 25 pounds of lean muscle? You need six months. You need to eat 6,000 calories and here it is'," added Jackman.