Jaipur Lit Fest: It is also about samosas and kachoris
Jaipur: For Raj Kumar, literature is far from being the reason to be at the ongoing Jaipur Literature Festival. Instead of wanting to meet velebrated authors and listen to their take on various issues, he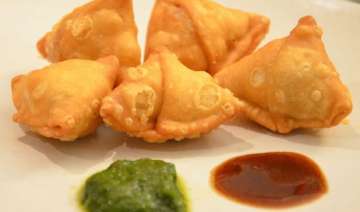 IANS
January 25, 2015 15:39 IST
Jaipur: For Raj Kumar, literature is far from being the reason to be at the ongoing Jaipur Literature Festival. Instead of wanting to meet velebrated authors and listen to their take on various issues, he is busy selling kachoris and samosas just outside the fest venue at Diggi House here.
"Since Wednesday, I have sold lots of these snacks at my makeshift shop outside the venue," Raj Kumar, popularly known as Kumar, told IANS.
He normally sells the kachoris and samosas at Rs 10 per piece but has doubled the price for the fest, which began Wednesday and ends Sunday.
"It is quite interesting to listen to my customers. People stand near my shop to eat these snacks and talk about authors and books. It really is very interesting. Though I do not understand much but I love to hear the discussions as sometimes they become heated," Kumar said.
Even the tea vendors situated inside and outside the venue are doing great business. In this chilly winter season, "kulhad chai", tea served in an earthen cup, has become very popular both among the participants and the attendees.
"What else can you desire more than a cup of tea in an earthen pot in this winter season? Oh, it smells and tastes so good and the best is to have talks and discussions while sipping the hot tea," said Komal, a college student who has not missed a single day of this event so far.
On an average snacks worth Rs.70,000-Rs.100,000 are being sold daily inside and outside the venue, of which 40-45 percent goes on buying tea. The tea does not come cheap. Each kulhad is being sold for Rs 30.
Looking at the rush, the State Bank of Bikaner and Jaipur (SBBJ), one of the leading banks of Rajasthan, has stationed a mobile ATM van at Diggi Palace to cater to the banking needs of the visitors.
The van is being manned by officials who are providing information about the bank's products and schemes to those interested.
"The mobile ATM is freqently being used by foreign and Indian guests alike," a press release issued by the bank said.
Not only Kumar and tea vendors, many others are also doing great business around the fest venue.
There are shops selling artificial jewelry and handicraft items and shops that are trying to woo the youngish crowd by selling sandwiches and pastas, among other things.
The organizers are expecting over 200,000 footfalls at Diggi Palace in five days. Thanks to this rush, these small-time businessmen are having a great time.