Jaipur Litfest: Engaging, mind-stimulating conversations on table
Jaipur: Every year, the annual literary pilgrimage Jaipur Literature Festival (JLF) offers a fine balance among different writing genres that peacefully co-exist and give the audience an opportunity to deliberate on issues that usually don't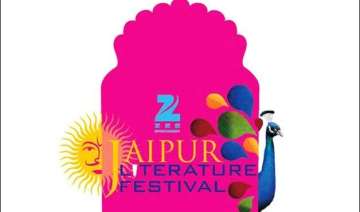 IANS
January 21, 2015 11:59 IST
Jaipur: Every year, the annual literary pilgrimage Jaipur Literature Festival (JLF) offers a fine balance among different writing genres that peacefully co-exist and give the audience an opportunity to deliberate on issues that usually don't find mention in everyday conversations. This year is no different, with the stage set here to host intellectual minds at the festival beginning Jan 21.
Ever since its inception in 2006, when it began on a small scale as part of the Jaipur Heritage International Festival, the five-day festival has been holding the fort on the same address: 17th-century Diggi Palace, as the organisers feel the venue compliments the sensibilities of the world's largest free literary festival.
But over these years, it has become challenging for the organisers to indulge the audience in sessions that don't require them to be "passive" observers, but "active" participants.
"We have always believed that this literature festival is a place which makes people to think and respond to different views. Most of the time in our lives we act as passive listeners, but these five days should leave the people with some afterthought," festival co-director Namita Gokhale told IANS.
"We like to keep our discussions open ended so that the audience can infer it as per their own thought process," she added.
And with these thoughts, this year's festival has chosen 234 luminaries from the field of art, literature and poetry to talk on various themes ranging from history, politics, cinema, art, travel and poetry.
This years literary heavyweights includes names like Pulitzer Prize winning poet Vijay Seshadri, Nobel laureate V.S. Naipaul, father of modern travel writing Paul Theroux, 2013 Man Booker Prize winner Eleanor Catton, Samuel Johnson Prize winner and author of "The Suspicions of Mr. Whicher" Kate Summerscale, Pultizer Prize-winning historian and journalist Kai Bird and the author of "Family Life" Akhil Sharma, among several others.
Apart from this, lyricist and poet Javed Akhtar who had skipped last year's festival will be attending this time, along with another regular attendees like lyricist Prasoon Joshi, author Chandrahas Choudhury and Suhel Seth.
Celebrated British poet Ruth Padel, Palestinian-American poet Fady Joudah and Sahitya Akademi Award winner Ashok Vajpeyi will explore the poetic imagination with discussions cutting across forms and languages.
Dialogues on art history and art appreciation, and sessions focusing on different aspects of Indian art will also play a major role at the festival.
There will be a session on art as well as a look at the interplay between Buddhism and architecture. Acclaimed Pakistani painter, writer and academic Salima Hashmi will throw light on the unknown masterpieces of Pakistani art.
Pakistani-British author Kamila Shamsie, Nigerian author Helon Habila and South African Mark Gevisser, known for his biography of South African politician Thabo Mbeki, will also be attending the five-day literary gala.
"This festival is a magical and transformative experience for the mind and soul. The infectious joy of collective energies and stimulation of books and reading, ideas and dialogue, pulls together visitors from all corners of the globe," said Gokhale, co-director of the festival.
The festival will end Jan 25.