Kim Kardashian's sister Kendall was 'laughed at' when she began modelling
Los Angeles:  Model Kendall Jenner has shared that she was "laughed at" when she started modelling and often had doors closed in her face by people who refused to work with her."You have no idea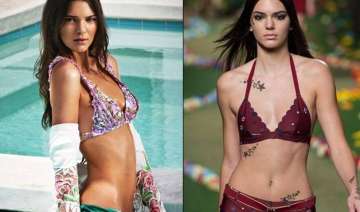 IANS
April 30, 2015 14:04 IST
Los Angeles:  Model Kendall Jenner has shared that she was "laughed at" when she started modelling and often had doors closed in her face by people who refused to work with her.
"You have no idea how many doors closed on me and how many adults were either initially reluctant to take a chance working with me or who outright laughed at me behind my back. It was kind of hard because all I was doing was going on go-sees, trying my best to break into this business as a teenager," said Kendall.
The 19-year-old, who has since become a staple feature on the catwalk at global fashion weeks, went on to thank designers Marc Jacobs, Riccardo Tisci, Karl Lagerfeld and Love magazine's editor Katie Grand for giving her a shot, reports femalefirst.co.uk.
"I'm so grateful to Marc Jacobs, Riccardo Tisci, Karl Lagerfeld, and Katie Grand, who took a chance on me that first season and gave me an opportunity," Kendall said.
Despite her difficult start in the industry, the model remained determined to break into modelling thanks to the strong "work ethic" that was instilled in her by her parents Kris Jenner and former Olympian Bruce Jenner.
"My parents taught me that work ethic is one of the most important keys in life, and I believe it," she told V magazine.