'Kissing is an art - and follows some rules'
New Delhi, July 17: Over its 100 years of existence, Indian cinema has thrown up various lip-lock scenes - from Devika Rani to Rani Mukerji; from Himanshu Rai to serial kisser Emraan Hashmi, and now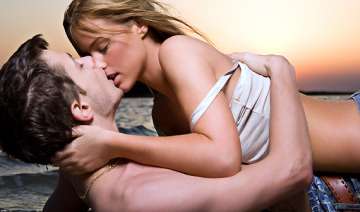 IANS
July 17, 2013 7:54 IST
New Delhi, July 17
: Over its 100 years of existence, Indian cinema has thrown up various lip-lock scenes - from Devika Rani to Rani Mukerji; from Himanshu Rai to serial kisser Emraan Hashmi, and now the small screen is not far behind either. But looking at making your own experience special? Here's how!
Kissing is an art and experts say you must follow some rules. Firstly, lovers should be careful about hygiene, says Shikha Giri, consultant prosthodontist and implantologist.
"Brushing your teeth is very important. One should do it after dinner and after breakfast. In the morning, you should just massage your gums with your fingers and should brush your teeth after breakfast, this will control germ buildup," Giri told IANS.