Holi Special : Love your tresses? Protect them from Holi colours (see pics)
London: Holi is all about colours - some use safe herbal options, but some go wild with eggs, grease and 'pucca' colours. Be wary against the use of synthetic colours that may be laced with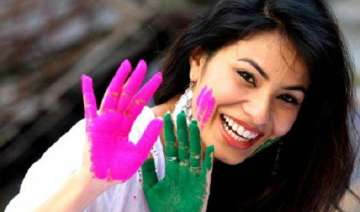 PTI
March 16, 2014 14:45 IST
London: Holi is all about colours - some use safe herbal options, but some go wild with eggs, grease and 'pucca' colours.
Be wary against the use of synthetic colours that may be laced with industrial dyes, and protect your hair and scalp by having a pre-holi massage with warm coconut oil and tie them up to play with colours, an expert says.
Celebrity hairstylist Asgar Saboo has a few simple precautionary steps to suggest so that you can enjoy the festivity to the hilt - and keep your locks damage-free.
Here are some tips: