Personalised gifts latest trend in tier-II cities, reveals Survey
New Delhi: People in tier-II Indian cities are warming up to the idea of making their near and dear ones feel special with personalised gifts, according to a survey by an personalized printing online portal.The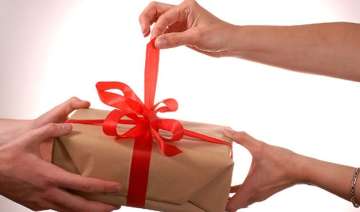 IANS
January 09, 2015 15:44 IST
New Delhi: People in tier-II Indian cities are warming up to the idea of making their near and dear ones feel special with personalised gifts, according to a survey by an personalized printing online portal.
The survey was conducted by Printvenue.com to tap the gifting trends of tier-II cities, the mobile-app ordering pattern in these cities and the overall male versus female ratio towards the trend.
According to results, Printvenue.com witnesses 42 percent of its orders from these cities, of which maximum orders come from Chandigarh, followed by Ahmedabad, Lucknow, Coimbatore, Jaipur, Indore, Bhopal and Surat.
The wide male versus female ratio of 65:35, while placing orders on Printvenue.com, also indicates that male customers are more inclined towards the trend of personalised gifting than their female counterparts.
"Through this study, we are able to comprehend the ongoing gifting trends prevalent in tier-II cities. This helps us to upgrade our products and services in conjunction with the requirements of our customers in these regions," Saurabh Kochhar, managing director and co-founder, Printvenue.com, said in a statement.
The survey also showed that 15 percent of the orders were derived from Printvenue.com's Android-based mobile application within one month of its launch, highlighting the ease and convenience of the mobile app while placing gift orders.
But what kind of gifts are people purchasing?
It was observed that pens, diaries and organisers, phone cases, card holders and photo mugs are among the favorites of patrons.