Tackle summer skin problems with extra care
New Delhi: When the sun scorches nice and bright, it's advisable to pay special attention to your skin. Keep yourself hydrated and use sunscreen among other things to save your skin from damage, says an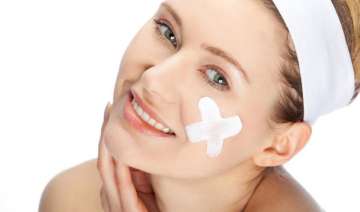 IANS
April 02, 2015 16:55 IST
New Delhi: When the sun scorches nice and bright, it's advisable to pay special attention to your skin. Keep yourself hydrated and use sunscreen among other things to save your skin from damage, says an expert.
Some major skin problems that occur due to over-exposure to the sun include fine and coarse wrinkles, benign tumours, age spots, discoloured areas of the skin called mottled pigmentation; Sallowness -a yellow discoloration of the skin; Telangiectasias - the dilation of small blood vessels under the skin; and Elastosis - the destruction of the elastic tissue causing lines and wrinkles.
Deepti Dhillon, founder and director of Delhi-based Apple skin Cosmetic and Laser Clinic, has shared some easy and useful tips to save the skin from damage this summer:
* Keep hydrated: Drink at least six to seven glasses of water.
* Wear sunglasses to cover the eye area from the harmful UV lights.
* Use broad-spectrum sunscreen (SPF 30) for sun protection. Apply it two to three times in a day.
* Try to cover your body as much as possible, wear wide-brimmed hats to cover face, wear loose cotton clothing to avoid trapping of sweat which may lead to body acne.
* Get milk: Soak your feet in the tub with lukewarm to cool water with six cups of milk. This is helpful to lower the temperature of the body while soothing the skin.
* Change your skin care products: Get your skin analysed at a dermatologist's clinic to know which products to use during the summer season. The products, which protect you in winters, may not do wonders in summers. So, you have to change your products with the changing season as your skin also goes through transformation.
* Invest in Dermabrasion session at a dermatologist's clinic for exfoliation. Opting for hydra-facial Medi-facials also helps the skin to restore hydration.
* For sunburned skin, apply a lightweight lotion containing antioxidants: Since sunburn is the ultimate sign of free radical-induced inflammation and skin damage, usage of antioxidants may help to lessen the damage that is occurring deep within the skin and encourage repair.