Raveena adopts stray puppies (see pics)
Mumbai: Actress and animal lover Raveena Tandon has adopted two stray puppies who join an existing team of three rescued dogs.One is a male, now named Luv, and the other female, called Ganga.When Raveena, who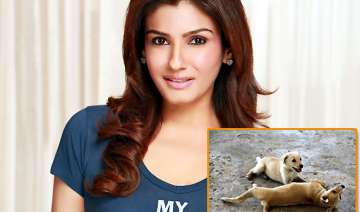 PTI
August 19, 2013 11:21 IST
Mumbai:
Actress and animal lover Raveena Tandon has adopted two stray puppies who join an existing team of three rescued dogs.
One is a male, now named Luv, and the other female, called Ganga.
When Raveena, who is married to film distributor Anil Thadani, heard from her friends at People for the Ethical Treatment of Animals (PETA) India about the many puppies who had been found struggling in the monsoon rains, she decided to help by adopting two puppies.