Jacqueline Fernandez swears by Salman and Deepika's fitness (see pics)
Mumbai: Actress Jacqueline Fernandez, who is fitness conscious herself, believes Deepika Padukone and Salman Khan are the greatest fitness icons of the Hindi film industry.While Jacqueline worked with Deepika in "Race 2" last year, she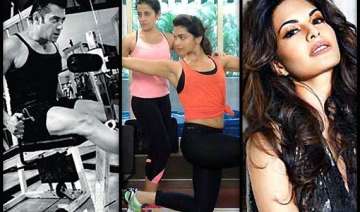 PTI
March 15, 2014 6:31 IST
Mumbai:
Actress Jacqueline Fernandez, who is fitness conscious herself, believes Deepika Padukone and Salman Khan are the greatest fitness icons of the Hindi film industry.
While Jacqueline worked with Deepika in "Race 2" last year, she will be seen opposite superstar Salman in Sajid Nadiadwala's "Kick".
"I think a great icon or inspiration for fitness is Deepika Padukone," Jacqueline said here in an interview.