Five reasons to use cucumber (see pics)
As the summers are approaching , temperatures will be getting high and scorching heat will dehydrate your whole body. To protect yourself from heat, try cucumber. Cucumber are the best foods for your overall heath.Cucumber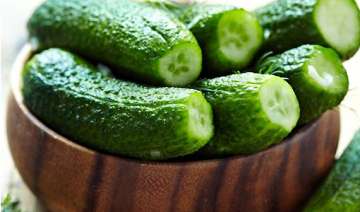 India TV News Desk
July 07, 2014 9:27 IST
As the summers are approaching , temperatures will be getting high and scorching heat will dehydrate your whole body. To protect yourself from heat, try cucumber. Cucumber are the best foods for your overall heath.
Cucumber rehydrate body
- In case you are not getting time to drink enough water, eat cool cucumbers as it has 90 percent water in it. It will compensate your water lost.
Cucumber fights heat inside and out
- Eating cucumber escapes the body from the heat and it is also good for skin. Cucumber applied on skin will get you relief from sunburn.
Cucumber eliminates toxins
- Cucumber helps to sweep out waste product out from your body. Regular use of cucumber can even also dissolve kidney stones. Since  all water , cucumber is good for health in any sense.
Cucumber replenishes daily vitamins
- Cucumber contains A, B,C that boost your immune system that keeps you radiant and give you energy.  Cucumber should be taken daily and if combined with carrot and spinach they are the healthiest diet ever.
Not just cucumber and its juice, but its seeds are also highly beneficial.  Cucumber seeds are considered as a natural remedy to eliminate tape worm from intestinal tracts. The seeds also have anti inflammatory properties which are effective in the treatment of swellings of mucous membranes of the nose and throat.