Workout over dieting for Kimberley Walsh
London: Singer-songwriter Kimberley Walsh says she hates dieting, but loves to work out to keep herself fit.The former Girls Aloud singer had to adhere to a strict diet when she competed on reality TV show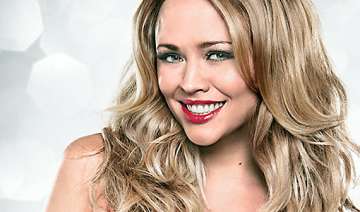 PTI
July 08, 2013 14:33 IST
London:
Singer-songwriter Kimberley Walsh says she hates dieting, but loves to work out to keep herself fit.
The former Girls Aloud singer had to adhere to a strict diet when she competed on reality TV show "Strictly Come Dancing" in 2012. She admits that calorie counting is boring and so, she doesn't do it anymore.
"When it's incorporated into your daily workout schedule, then you don't really have to think about it. So, as soon as I'd stopped completely - the show, the tour - then I had to take up the training at the gym," contactmusic.com quoted Walsh as saying.
"I'm over the diet thing though. I think it's worth working out so you can have a life and eat. It's a bit antisocial when you're on a diet, and calorie counting is boring. So, I don't really do it anymore," said Walsh.
The 31-year-old also likes to go biking.
"It's a great way of keeping fit, it's just the hills you have to be careful of. I think it's a nice thing to do with the family, take the kids and do it. As a kid I feel like I spent so much time on a bike and I don't think kids do anymore, which is a shame," she added.