Malala Yousafzai brings the house down with her impassioned and hilarious speech at Canadian Parliament
Malala received honorary citizenship of Canada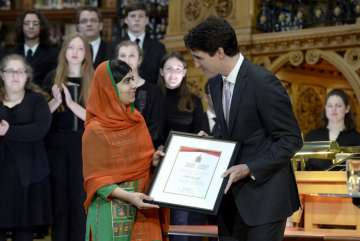 Tripti Narain
New Delhi
April 13, 2017 15:28 IST
Pakistani national Malala Yousafzai is not just a brave-heart, but she is also witty. During her speech at the joint session of the Canadian Parliament, she brought the house down with her funny speech that left Canadian Prime Minister Justin Trudeau, his wife and other dignitaries cracking. At one point there was so much clapping and laughter that she asked the people present there to cut down on standing ovations otherwise they would "get tired".
Malala, who is the youngest recipient of the Nobel Peace Prize, yesterday received the honorary Canadian citizenship from Prime Minister Justin Trudeau. The Pakistani activist for female education is only the sixth person ever to receive this title. 
Yousafzai told the House she was grateful to be an honorary citizen of this "nation of heroes" though she would still "require a visa." The House exploded in laughter. "That's another discussion," she added. (Anyone travelling with a Pakistani passport needs a visa to enter Canada.)
She revealed how her friends were so excited for her to meet Prime Minister Justin Trudeau, someone who "does yoga" and has tattoos, and that "I don't think anyone cared about the honorary citizenship."