On World Against Child Labour Day, Twitter unites to protect children and childhood
World Against Child Labour Day is observed to protect children from the evils of child labour and give their childhood back.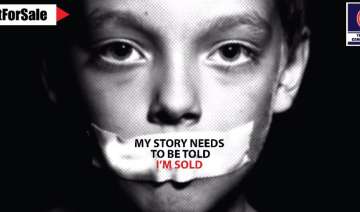 Source: TWITTER/THANE POLICE
Tripti Narain
New Delhi
June 12, 2017 19:21 IST
An estimated 120 million children are engaged in hazardous work, they are forced to abandon their childhood and toil for themselves and their families. Child labour is most rampant in African and West Asian countries. There are numerous tales of horror from conflict zones. More than 1 crore child labours are in India. Most child labourers in India are from Uttar Pradesh. More than 200 million children worldwide are child labourers today. 
In 1992, India had ratified the United Nations Convention on the Rights of the Children, firmly establishing that we stood against child labour, however, the evil still exists mainly because of various loopholes in the system and because children are easy to exploit and are cheap labours. In India, child labour has become an even more pressing issue with the passage of time.
On the World Day Against Child Labour, it is heartening to see people and organisations coming together on social media to protect innocent children.
A child's life is best nurtured in study & play: not in Labour. It's time for us to say: No to child labour.#WorldDayAgainstChildLabour pic.twitter.com/2IpfSd0UC5

— CP Delhi (@CPDelhi) June 12, 2017
There is no reason, there is no excuse, child labor is child abuse. STOP #ChildLabour#WorldDayAgainstChildLabour pic.twitter.com/HTE0dYhY1O

— 🇮🇳 श्वेता सिंह 🚩 (@SwetaSingh_1) June 12, 2017
People are urging the government to stop child labour.
One user tweets: Only if we give them a decent present, we should expect the society to have a bright future. #WorldDayAgainstChildLabour 
Celebrity sand artist who expresses his views on current topics through his sand creations, did this: 
On #WorldDayAgainstChildLabour, let us spread awareness to STOP #ChildLabour. My SandArt at Puribeach in Odisha pic.twitter.com/B30FBSy5mt

— Sudarsan Pattnaik (@sudarsansand) June 12, 2017
Some expressed irony in the children's lives:
Actor Rahul Dev also took to Twitter to express his views
We squirm on seeing thm wrk ,yet globally 168 million children r forced to work. Protect children #NoChildLabour #WorldDayAgainstChildLabour pic.twitter.com/wdWeOuxY4t

— Rahul Dev Official (@RahulDevRising) June 12, 2017
If we cannot imagine our kids working,

Why do we employ others' ?

Don't spoil their CHILDHOOD #WorldDayAgainstChildLabour

— Pashyanti Shukla'ऋता (@pashyantii) June 12, 2017
Let's pledge to provide a carefree and meaningful childhood to every child this #WorldDayAgainstChildLabour. Child labour is crime against humanity, let's pledge to stop this and allow children to enjoy their childhood.