Assam Rifles soldier killed, 9 injured as armed militants ambush their convoy
An Assam Rifles jawan was today killed while nine others were injured in an ambush on their convoy by armed militants near Wakka in Longding district of Arunachal Pradesh. The attack took place 20km from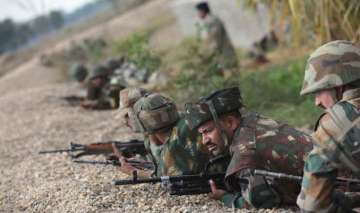 India TV News Desk
Itanagar
December 03, 2016 19:58 IST
An Assam Rifles jawan was today killed while nine others were injured in an ambush on their convoy by armed militants near Wakka in Longding district of Arunachal Pradesh.
The attack took place 20km from India-Myanmar border.
Defence PRO Lt Colonel Chiranjeet Konwar said the militants ambushed the convoy of 16 Assam Rifles stationed in the district near Wakka at around 1.45pm killing one jawan on the spot while injuring nine others.
He, however, could not divulge the name of the deceased nor the group involved in the ambush.
"Search operation is going on in the area and efforts were being made to evacuate the injured jawans," he added.
Unconfirmed reports from Longding said the ambush was carried out jointly by NSCN (K) and ULFA (Independent) cadres.

 
(With PTI inputs)