13 RSS workers found guilty in 2008 murder of CPI(M) activist in Kerala
A court in Kerala on Friday found 13 RSS activists guilty in the murder of a local CPI(M) worker on April 1, 2008. Additional Sessions Court judge TK Unnimol will pronounce the quantum of sentence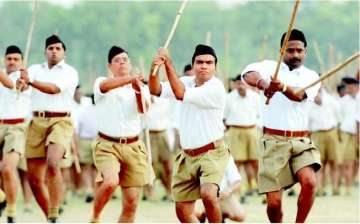 India TV News Desk
Thiruvananthapuram
December 17, 2016 17:07 IST
A court in Kerala on Friday found 13 RSS activists guilty in the murder of a local CPI(M) worker on April 1, 2008.
Additional Sessions Court judge TK Unnimol will pronounce the quantum of sentence on December 19.
The case relates to the murder of Vishnu at Kaithamukku. According to the prosecution, the accused armed with swords, iron rods and other weapons attacked Vishnu and killed him.
There were a total of 16 accused in the case. While one accused died in 2008, another was acquitted by the court on Friday and one is absconding.


Charges against the accused include that of murder, conspiracy and unlawful assembly.

(With inputs from PTI)