1400 tourists stranded in cyclonic weather in Andamans, Rajnath Singh says 'all safe'
Around 1,400 tourists are stranded at Havelock and Neil islands in the Andamans due to cyclonic weather conditions.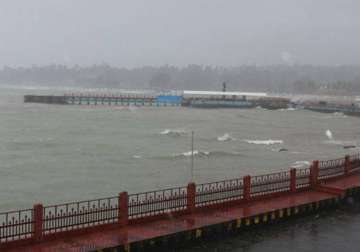 India TV News Desk
Port Blair
December 08, 2016 10:18 IST
Around 1,400 tourists are stranded at Havelock and Neil islands in the Andamans due to cyclonic weather conditions.
The two islands, approximately 40 kms from Port Blair, have been hit the most by the cyclonic weather conditions caused by a severe depression over southeast Bay of Bengal which led to heavy rainfall, strong wind and rough sea conditions.
"About 1,400 tourists, who had visited the islands, are now stranded and unable to return to Port Blair to fly backhome," South Andaman's Deputy Commissioner Udit Prakash Rai said. 
The administration has already declared the cyclonic weather as 'L1 Disaster'. 
The Navy said that four ships have been pressed into service to evacuate them from the two most popular tourist attractions in Andamans. But the ships Bitra, Bangaram, Kumbhir and LCU 38 have not yet begun rescue operation because of unfavourable weather conditions. 
The only means of transportation from them are vessels and choppers which have stopped operation since Monday last due to bad weather. 
"The ships are waiting outside the harbour. Adequate food, fresh water, medicines and doctors besides divers and local administration personnel are being ferried on board to provide succour and relief," a Defence official said. 
Home Minister Rajnath Singh this morning said that everyone is safe and appealed to families of the tourists not to panic.
"The government will launch the rescue operations immediately after the intensity of the cyclone reduces. The teams are ready in Port Blair," Singh tweeted.
The local populace of 10 villages of Havelock and Neil islands have also been hit severely by the cyclone which has hampered the movement of essential supplies. 
Andaman administration officials said the cyclonic weather has uprooted trees, disrupted power supply and caused flooding in some low-lying areas of Port Blair. Mobile and internet connectivity have also been snapped in many areas. 
There is, however, no reason to panic, the officials said, adding that the administration is fully geared up to tackle any situation. 
At a high-level meeting in Raj Niwas, Lt Governor Jagdish Mukhi reviewed the situation and relief operations being carried out by the administration. 
He has directed all departments to ensure timely response and co-ordinated action so that quick relief reaches the people. 
The tourism department has also set up help desks at the Port Blair airport, Havelock and Neil islands.