8th December News in Nutshell: Important stories of the day
National News- President Mukherjee lambasts opposition MPs for stalling Parliament, says 'for God's sake, do your job' With Parliament witnessing continuous adjournments due to uproar by opposition parties over demonetisation drive, President Pranab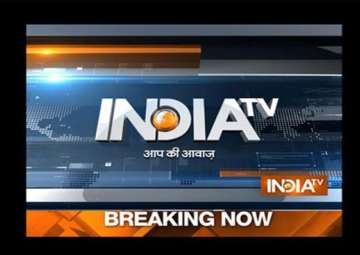 India TV News Desk
New Delhi
December 08, 2016 18:59 IST
National News-
President Mukherjee lambasts opposition MPs for stalling Parliament, says 'for God's sake, do your job'
With Parliament witnessing continuous adjournments due to uproar by opposition parties over demonetisation drive, President Pranab Mukherjee today said that the 'disruption of the Parliament is not acceptable at all'.
Demonetisation 'yagna' against corruption, terrorism,black money: PM Modi slams opposition for disrupting Parliament
Facing a flask from opposition parties, including the Congress, over demonetisation, Prime Minister Narendra Modi today said that Centre's this move will benefit farmers, traders, labourers and middle-class families in long run.
Triple talaq unconstitutional, violates rights of Muslim women: Allahabad HC
The Allahabad High Court today said that practice of triple talaq as per the Islamic law is unconstitutional and it violates the rights of women. 
Kerala HC bans women from wearing churidar in Sri Padmanabhaswamy Temple
The Kerala High Court today ruled that women should not be allowed to wear salwar kameez and churidar inside the Sri Padmanabhaswamy Temple.
Speaker Mahajan warns of 'harsh steps' if opposition continues to disrupt House proceedings
Lok Sabha Speaker Sumitra Mahajan today warned of 'harsh steps' if opposition members did not stop protesting and disrupting others who were speaking.
International News-
Breach of Indus Waters Treaty by India would be an 'act of war': Pakistan
Pakistan has said that it would treat any unilateral violation of Indus Waters Treaty by India as an "act of war".
Donald Trump picks President Xi Jinping's old friend as US envoy to China
In a significant development, US President-elect Donald Trump has selected Iowa governor Terry Branstad as the next US envoy to China.
Business News-
Cheaper fuel, free insurance on Rail tickets and many more: Govt announces incentives for cashless transactions
In a bid to promote cashless transactions, Finance Minister Arun Jaitley today announced a slew of incentives for those opting digital mode of payment for various services. 
I-T raids on jewellery shops across Chennai; Rs 90 cr cash, 100 kg gold seized
In raids carried out at eight locations across Chennai, Income Tax officials recovered Rs. 90 crore in cash and 100 kg gold from jewellers on Thursday.  
Whooping Rs 37,000 crore deposited in Jan Dhan accounts since note ban, inflows decline after govt warning
The central government today said that the cash inflows into Jan Dhan accounts have come down significantly after it warned people not to allow their accounts to be misused for converting black money into white.
Entertainment News-
Khan battle: Shah Rukh's 'Raees' beats Salman's 'Sultan'
After teasing audience with the glimpses, the trailer of superstar Shah Rukh Khan's 'Raees' was released yesterday. People welcomed their favourite star in villainish avatar with whistles and claps. The trailer garnered 100K likes in 3 hours and 35 minutes creating a record in itself. But, 'King Khan' in some other way has won the 'Khans Battle'.
Ranveer may face legal trouble for his 'bold' Jack and Jones ad
Actor Ranveer Singh is keeping his figures crossed for his upcoming film 'Befikre'. But, it seems that controversies surrounding his Jack and Jones advertisement refused to die. After facing outrage on various social networking sites, now a lawyer has filed a complaint against the actor.
Jai-Veeru bond: Big B shares rare & unseen images of Dharmendra on his 81st birthday
Actor Dharmendra turned 81 today and his fans got treated with few of his throwback pictures, all thanks to megastar Amitabh Bachchan. Big B took to micro- blogging website Twitter to share pictures of Dharam Paaji.
Sports News-
Ind vs Eng, 4th Test: England end first day at 288/5 in Mumbai
England's Debutant Keaton Jennings would be very happy with his batting performance after cracking a superb century against India who fought back to restrict England to 288/5 to end the first day's action of the fourth Test on even keel at the Wankhede Stadium here on Thursday.
Watch: Umpire Paul Reiffel hospitalised after being hit by Bhuvneshwar Kumar's throw during Ind-Eng Test
The Aussie umpire Paul Reiffel was today rushed to the hospital after Bhuvneshwar Kumar's loopy throw from the deep caught him off guard.
BCCI rejects CEO's wish for Italian suits, costing Rs 2.5 lakh each, for Indian cricket team: Report
The Board of Control for Cricket in India (BCCI) has rejected the proposal of its CEO Rahul Johri for purchasing Italian-tailored suits, costing Rs 2.5 lakh each, for the Indian cricket team.