A FESTIVAL OF PRAYERS AND A HOLY MONTH OF EID-UL-FITR
For Muslims, both the celebrations of Eid-ul-fitr and Eid-ul-adha are auspicious events of showing thankfulness to Almighty God and recalling him and a means of amusement and merriment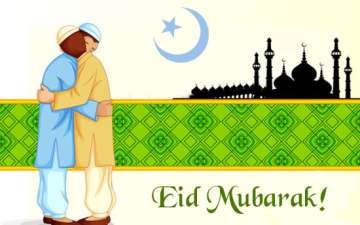 India TV News Desk
New Delhi
June 23, 2017 11:14 IST
Eid-ul-Fitr comes on the first day of Shawaal, (Shawwal is the day of festival and when all sins are forgiven as a reward for fasting and prayers in the month of Ramadan). This is most pure, pious and divine festival of Muslims and was first originated by Prophet Muhammad -" last  Prophet of Islam". Islam is a religion founded by Muhammad, whose disciples believe in worshiping only one God. (God is called Allah in Arabic) and follows the teachings of the Koran. Islam means "submission to the will of God". Festival of id-ul-fitra begins with Eid-al-Fitr- which comes  on the tenth day of Zil-Hijjah, the last month of the Muslim year. The Islamic Eids are unique in each aspect of religion or spiritualty.
History of EID-UL-FITR
According to A hadith (words, actions, or habits of the prophet Muhammad) migration was the important reason behind occurrence of these two pious festivals in Madinah.   
By the arrival of Prophet Muhammad at the city of Madinah, Prophet Muhammad observed people celebrating two days (stated clearly and in detail) in which people used to gladden and entertain by gaiety and fun. Witnessing this nature of these sorts of celebrations and gaiety at which people responded that these festivities were occasions of recreation and fun of days of jahilliyah. Regarding point, the Prophet Muhammad mentioned that two days of holidays has been set by Almighty God instead of these festivities for you, those days are far better and divine: "Eid-ul-Fitr and Eid-ul-Adha".
Eid-ul-Fitr and Eid-ul-Adha
For Muslims, both the celebrations of Eid-ul-fitr and Eid-ul-adha are auspicious events of showing thankfulness to Almighty God and recalling him and a means of amusement and merriment. A'ishah reports that on the auspicious day of Eid when her father Abu Bakr Siddiq stopped some young girls from singing, Prophet Muhammad said: Abu Bakr! Every nation has their own 'id and this is our Eid. During this holy monthy of ramdaan all muslims undergo fasting on daily basis from dawn until the dusk. Fasting in this month is best way for Muslims to develop self-discipline and self-control: By withholding from some of the carnal and basic desires and needs. In this fasting intake of beverages and food is prohibited including sex relations. Muslims believe that fasting in this month is a kind of exercise to develop pure self –esteem which strengthen of being obedient disciple of almighty god regardless of the lust towards sin.
Sick people, travelling, and elderly or women who are nursing and pregnant are allowed to break the fast and cover up the missed days of Ramadan later. If they are incapable to do this later, they must provide food to a needy one for every day they missed. Children are required to start their fasting right from their adolescent days. Even though fasting is advantageous for healthy well-being and it is considered chiefly as a way of spiritual self refinement.
Eid is a wholesome celebration of a remarkable achievement of the individual Muslim in the service of Allah. Muslims only listens to the eternal voice of allah during these days. The festival of Eid is also a thanksgiving day where the muslims assemble in a brotherly and joyful atmosphere to offer their gratitude to Allah for helping them to fulfill their spiritual obligations prior to the Eid. This form of thanksgiving is not confined to spiritual devotion and verbal expressions. It goes far beyond that to manifest itself in a beautiful shape of social humanitarian spirit. Even in the most joyful times the Muslims make a flesh stall of the day by a plural session of worship to Allah. They pray to Allah and glorify His name to demonstrate their remembrance of His favours. When Muslims assemble in the congregation of Eid day, they all whole-heartedly pray for forgiveness and strength in faith. And Allah has assured those who approach Him with sincerity  of His mercy and forgiveness.