Businessman linked with Tamil Nadu Chief Secy's son arrested by CBI in Rs 170 cr cash seizure case
CBI today arrested businessman J Sekar Reddy after Income Tax searches at his residence and office in Chennai resulted in seizure of 127 kg of gold and over Rs 170 crore in cash.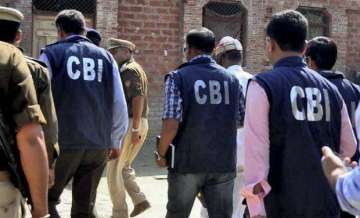 Source: REPRESENTATIVE IMAGE
India TV News Desk
New Delhi
December 21, 2016 23:56 IST
The Central Bureau of Investigation (CBI) today arrested businessman J Sekar Reddy and his associate K Srinivasulu after Income Tax searches at his residence and office in Chennai resulted in seizure of 127 kg of gold and over Rs 170 crore in cash post-demonetisation.
The sources from investigative agency said that Reddy is linked with the son of Tamil Nadu Chief Secretary P Rama Mohana Rao who is also under the scanner of I-T department. It is believed that Reddy, a contractor, allegedly received his help to get state-wide sand mining contract.
The I-T department today carried out searches at over a dozen places in two states against the son and some relatives of Rao. They claimed to have seized Rs 30 lakh cash in new currency notes and 5 kg gold during the raids. 
The department also seized Rs 5 crore of undisclosed income from bureaucrat's son Vivek.
The latest action is a follow up against the sand mining operators in the state and few others including Reddy, who was removed as the Board Member of the Tirumala Tirupathi Devasthaman (TTD) (Tirupati) by the AP government after the I-T action on December 9. 
CBI has registered a case of criminal conspiracy and cheating under Indian Penal Code besides provisions of Prevention of Corruption Act against Reddy and his two associates for conversion of currency in violation of RBI norms, the sources said.
They said it was alleged that I-T department searches had resulted in seizure of over Rs 170 crore in cash which included newly-introduced notes of Rs 2,000 worth Rs 34 crore (seized in two different occasions) besides 127 kg gold from him and his associates Srinivasa Reddy and Prem Kumar.
CBI case is related to seizure of Rs 24 crore of new currency notes from a Tata Ace load vehicle belonging to a Vellore resident, Rishi Kumar, on December 9 following searches at Reddy's residence in Chennai.
"Reddy and his associates had, with the help of unknown public servants of different banks, converted the unauthorised cash held by them in old currency notes, thereby depriving the public in enforcing their right," CBI alleged in its FIR.
It said the bank officials, who are allegedly entrusted with the distribution of new currency notes as per instructions of Reserve Bank of India, defied the RBI instructions and helped Reddy for a "consideration".
"Reddy, Prem Kumar and K Srinivasulu, had in conspiracy with unknown bank officials and public servants converted unaccounted cash held by them in the form of old currency notes to new Rs 2,000 currency notes, cheating the government of India," it alleged.