Centre defends Army Chief's selection, says it is purely based on merit, anti-terror experience
New Delhi: Countering the criticism over the selection of Lt General Bipin Rawat as Army chief, superseding two senior commanders, the government is defending its decision saying it was based "purely on merit"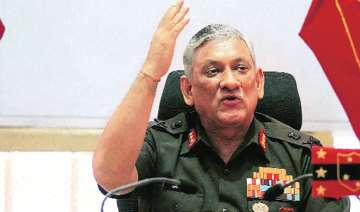 India TV News Desk
New Delhi
December 19, 2016 9:19 IST
Countering the criticism over the selection of Lt General Bipin Rawat as Army chief, superseding two senior commanders, the government is defending its decision saying it was based "purely on merit" and that "due process had been followed considering the prevailing security environment and requirements". 
"The selection is based purely on merit, irrespective of the Corps to which the officer originally belonged," Indian Express quoted its defence sources as saying.
"The appointment of the Chief of Army Staff is based on selection from a panel of officers in the rank of Army Commanders. All officers in the panel are very competent officers and the most suitable among them is selected. However, it must be emphasised that the prerogative of selecting the most eligible from the panel is that of the government," The Indian Express quoted MoD sources as saying. 
Explaining the reason behind the selection of Lt Rawat, ministry sources told IE, "The government of the day takes the final decision choosing the most suitable officer based on various aspects of the security situation in the country and the future scenario. In the current security situation, counter-terrorism and counter-insurgency are key issues. Therefore, the background and operational experience of officers on the panel were considered in depth while selecting the next COAS (Chief of the Army Staff)."
A few army veterans have also questioned Centre's move. Former UN force commander Lt Gen Iqbal Singh Singha (retd) called it a "surgical strike on the Indian Army", according to Times of India.
Another defence expert Colonel (Retd.) Sunil Deshpande recalled the earlier instances of 1972 and 1983 when the Army Chiefs where appointed after superseding their senior officials and expressed his displeasure over the issue surrounding Lieutenant Rawat's appointment being blown out of proportion.
Defence Expert Colonel (Retd.) D.S. Grewal said the selection up to the Army Commander-level is strictly as per professional capability, while appointment as an Army Chief has to be on wider scale. 
"Hence to say that seniority only matters will not be correct. No more controversies are required especially in the appointment of Army Chief," he told ANI.
The government had, on Saturday, announced that Lt General Bipin Rawat would replace General Dalbir Singh as Army chief, who retires on December 31. Deviating from the customary practice of selecting the senior-most eligible officer, the government superseded Eastern Army Comander, Lt General Praveen Bakshi, and Southern Army Commander, Lt General PM Hariz, says a report in The Indian Express. 
This is the first time since 1983 that the senior-most Army commander has not been chose as the chief. 
Lt General Rawat is from the infantry, the Gorkha regiment like General Dalbir Singh, while Lt General Bakshi belongs to the Armoured Corps and Lt General to the Mechanised Infantry. 
The government's decision has caused dismay in certain quarters of the defence services that the selection could sharpen the divide between the infantry and other arms in the Army.