18 killed as cyclone Vardah leaves behind trail of destruction in Tamil Nadu, increases demonetisation woes
At least 10 people have died after the severe cyclonic storm Vardah struck Tamil Nadu on Monday leaving behind a trail of destruction in the state. The National Disaster Management Authority (NDMA) has said in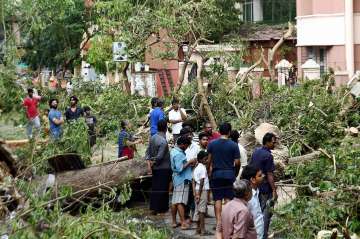 Source: PTI
India TV News Desk
Chennai
December 13, 2016 19:56 IST
At least 18 people were killed in rain-related incidents in Tamil Nadu during the severe cyclonic storm Vardah that struck the state on Monday, the government said today. 
The cyclone has also hit the currency supply to banks and ATMs here, aggravating the post-demonetisation woes of people already reeling under a severe cash crunch.
While several banks and ATMs are providing cash far below the allowed limit every now and then due to cash shortage, the damage caused by the cyclone has dealt a further blow with movement of cash vehicles coming to a grinding halt, resulting in empty ATMs.
Also, ATMs could not be used to access other services like cheques or cash deposit as electricity supply is yet to be restored in several localities due to fallen trees, snapping power cables.
As the Centre announced the ban on Rs 500 and Rs 1,000 notes last month under its demonetisation move, people had to stand in long queues to deposit or withdraw cash from banks.
Adding to those problems, 'Vardah' forced many banks to suspend operations, while ATMs have already gone dry.
Even if banks had cash, personnel transporting them to the ATMs were unable to proceed as several trees were uprooted, virtually halting traffic movement, officials said.
Besides, since Tuesday was a holiday on account of Milad-un-Nabi, most ATMs had went out of cash while banks remain closed, causing great hardships to people.
A hotel employee said people have been coming and making payments through debit and credit cards, but due to increase in usage of card payments, there has been a surge in traffic.
"So some transactions passed successfully, but some could not. We asked them to pay in cash," he said.
Srivatsan, a private sector employee, said, "we were managing expenses by taking cash from banks. But now after the cyclone, we are unable to go out as roads have been cut off and there is also no power supply".
"Even if we manage to go to some shops, we are unable to make any purchase as card payments were also affected. As today is a holiday, we are at home. We can go to banks or ATMs to withdraw cash only tomorrow," he said.
Industry body Assocham has pegged the losses caused by cyclone to be around $1 billion (Rs 6,749 crore) in Tamil Nadu alone.
Nearly 20,000 people were evacuated from low areas and 18 people have died. Schools and colleges in Chennai, Kanchipuram and Tiruvallur remained closed on Tuesday.
The cyclone struck land with a wind speed of 120 and 130 kmph, bringing with it heavy rain that lashed the coast in Tamil Nadu and neighbour Andhra Pradesh all through Monday.
Chennai, which was among the worst affected districts, today presented a scene of devastation with thousands of uprooted trees, broken billboards and snapped telephone and power cables besides reporting water logging in low-lying areas. 
Flight operations resumed this morning in the storm-hit city which was limping back to normalcy. 
The Tamil Nadu government has expedited relief measures in the worst affected areas across Chennai and the neighbouring districts following the impact caused by the cyclone.
According to Chief Minister O Panneerselvam as many as 4,000 trees have been uprooted due to heavy winds and nearly 6,000 employees are working to remove them.
Power supply was partially restored across Chennai today as employees of the state-run TANGEDCO have been working on fixing snapped power lines since last night.
(With PTI inputs)