Cyclone Vardah: Tamil Nadu govt allocates Rs 500 cr for relief work, public services partially restored
Chennai: Tamil Nadu government on Wednesday allocated Rs 500 crore for relief and infrastructure works in regions ravaged by Cyclone Vardah, a day after Chief Minister O Panneerselvam sought Rs 1,000 crore from the Centre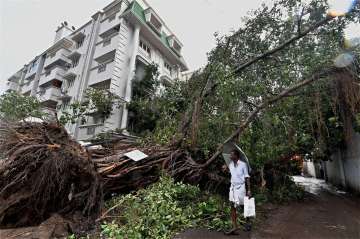 Source: PTI
India TV News Desk
Chennai
December 14, 2016 22:41 IST
Chennai: Tamil Nadu government on Wednesday allocated Rs 500 crore for relief and infrastructure works in regions ravaged by Cyclone Vardah, a day after Chief Minister O Panneerselvam sought Rs 1,000 crore from the Centre for rehabilitation efforts.
Of the Rs 500 crore, Rs 350 crore would be allocated to Tamil Nadu Generation and Distribution Corporation (TANGEDCO), Rs 75 crore to Chennai Corporation, Rs 25 crore to Highways department while Kancheepuram and Thiruvallur district administration would each get Rs 10 crore to take up relief works, Panneerselvam said in an official release here. 
Yesterday, in a letter to Prime Minister Narendra Modi, he had sought Rs 1,000 crore as immediate assistance from the National Disaster Response Fund to take up relief and rehabilitation works. 
He also requested that a team be deputed to study the damage caused by the cyclone in Chennai and neighbouring districts of Kancheepuram and Thiruvallur.
As cyclone Vardah made its landfall on Monday, Chennai, Kancheepuram and Tiruvallur districts were the worst hit as several trees were uprooted and electricity supply disrupted, he said. 
Various government departments have taken up restoration works on war footing, Panneerselvam said. 
Earlier today, he chaired a review meeting at the Secretariat in which senior Ministers, Chief Secretary, Advisor to Government, DGP and Department Secretaries, participated. 
"Based on discussions at the meeting, I have issued orders to allocate Rs 500 crore to provide relief assistance to people and to take up infrastructure works in the affected areas," he said. 
Among others, he said Rs 10 crore would be given as financial assistance to fishermen community, Rs seven crore to public work department, Rs three crore to health department, Rs 50 lakh to repair dairy farms that were affected and Rs five crore to police department to restore traffic signals. 
The government allocated Rs two crore to the transport department to renovate damaged buses and bus terminuses. 
As several trees at the famous Anna Zoological Park also were uprooted, the government allocated Rs 2.50 crore to the Forest department to take up restoration works at Zoo and those parks that were affected. 
"I have issued orders to all departments to work cohesively and complete the task soon," he said. 
Earlier, Panneerselvam inspected several affected areas including Aringnar Anna Zoological park at Vandalur in Kancheepuram district. He also disbursed Rs 13.94 lakh as financial assistance to 43 people at Mammallapuram Town Panchayat, a release said. 
Public services across the state have been partially restored with several government agencies working round-the-clock to ensure complete normalcy. 
While flight operations have already resumed, inter-intra state train services also were partially operating since last night.
 
City buses, Metro Rail, local northern train services (Arakkonam, Gummidipoondi-Central) and southern (Beach-Tambaram and beyond) were restored but MRTS trains were yet to become functional again. 
Electricity supply and communication lines which also bore the brunt were restored in some parts of the city. Mobile internet connectivity is yet to be fully restored while there is no broadband connectivity. 
People could not make digital payments or swipe their cards at POS outlets due to absence of connectivity. A miniscule number of ATMs could be seen dispensing cash and serpentine queues were seen in front of these machines. 
Civic workers from several districts from Central and southern districts continued to be deployed to clear fallen trees and restore road traffic in affected regions. 
The cyclonic storm, which was the most intense to hit the Tamil Nadu coast nearly after two decades, left a trail of destruction at several places and 18 persons lost their lives in rain-related deaths. Government also announced a compensation of Rs four lakh each to the bereaved families. 
Telecommunication lines and electricity poles were the worst hit due to the cyclone which also uprooted more than 12,000 trees in Chennai, Kancheepuram and Thiruvallur districts. 
More than 15,000 persons, who were living in low lying areas, have been accommodated in 104 relief camps set up by the state government.
(With PTI inputs)