Delhi: Air pollutant levels go 4 times beyond prescribed limits
The national capital continue to battle heavy pollution as the official data suggests that the levels of PM 2.5 and PM 10, most dominant pollutants in Delhi's air, have consistently violated the prescribed standards by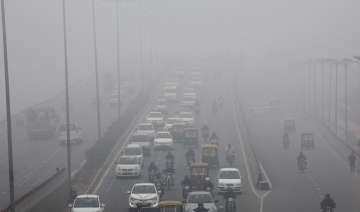 India TV News Desk
New Delhi
December 02, 2016 20:54 IST
The national capital continue to battle heavy pollution as the official data suggests that the levels of PM 2.5 and PM 10, most dominant pollutants in Delhi's air, have consistently violated the prescribed standards by about four times each over the last ten days.
The average levels of PM 2.5 and PM 10 over an eleven-day period from November 21 to December 1 were 194 and 438 micrograms per cubic metre, as against the corresponding safe limits of 60 and 100 respectively.
Although, these readings show no major difference when compared to the data collated over the same period last year, the city government said.
In fact, the average level of these ultrafine particulates over the same period were higher at 264 and 518 last year. This year the situation has marginally improved riding on the back of strong wind movement for about a fortnight.
Meanwhile, the Central Pollution Control Board's (CPCB) air quality index (24-hour average) was in the 'very poor' category today, with a reading of 378. Yesterday, it was 'severe' at 403.
The 24-hour-average (rolling) of PM 2.5 and PM 10 were 197 and 381 micrograms per cubic metre respectively today, as per Central agency SAFAR.
Environment Minister Imran Hussain reviewed the prevailing ambient air quality in a meeting with the officers of Environment Department and the Delhi Pollution Control Committee (DPCC).
The department, in a statement, suggested that the city was not witnessing another episode of smog at the moment.
"In winters, particularly when fog/mist develops in the city, a general perception prevails that the air quality worsens, whereas the fact is that fog and smog are two separate environmental phenomena.
"Fog is a collection of water droplets suspended in the atmosphere in the vicinity of the earth's surface that affects visibility. It reduces visibility below 1 km. The most common form of fog, known as radiation fog, typically occurs on clear nights as the earth's surface cools the moist air immediately above it," it said.

 
(With PTI inputs)