Delhi Police books writer for article suggesting 'Aadhaar can be hacked'
India TV News Desk
New Delhi
01 Mar 2017, 17:51:45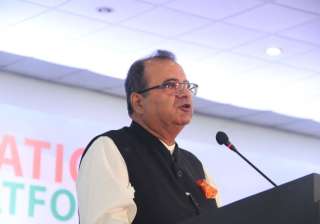 Source: TWITTER
Author and Skoch group chairman Sameer Kochhar, who recently pointed out loopholes in the Aadhaar system in an article, has reportedly been booked by Delhi Police for "allegedly spreading rumours." 
An FIR has been registered at the Cyber Cell of the Delhi Police Crime Branch against Kochhar, who has written several books including ModiNomics, for allegedly writing a "misleading" article targeting Aadhaar.
The complaint states that his actions violate the Aadhaar Act. 
According to The Indian Express, the FIR has been registered manually as the term 'Aadhaar Act' is still not updated in their system. Police said they received a complaint from an official of the Unique Identification Authority of India (UIDAI).
"We have registered a case based on a complaint from Yashwant Kumar of UIDAI," JCP (Crime) Ravindra Yadav said was quoted as saying by the daily.  
Yashwant Kumar is listed as Assistant Director General at UIDAI website. 
However, the police is yet to approach Kochhar in this regard. 
Kochhar had written an article on inclusion.skoch.in on February 11 titled "Is a deep state at work to steal digital India?" saying he was shocked on being told that Aadhaar can be hacked as it has very poor security.
"Apparently, when you use an Aadhaar enabled front-end application, your biometric is scanned and stored on the device along with your Aadhaar number," he wrote.
"Common sense would tell you that such a number should be heavily encrypted – the fact is, it is not, every time you scan your biometric only one unique number is generated. In the name of security, it has an additional time-stamp and location added to this number. It takes an easy hack to change this information and anybody can become you and transact on your behalf," he wrote with an attached video apparently verifying the claim. 
Yesterday, Kochhar had tweeted a news report saying an FIR had been registered against him and tagged the UIDAI asking if that was true. 
"Is this true eo_uidai provide a copy of the complaint @DelhiPolice," he wrote. 
In another tweet today, Kochhar wrote, "All evidence available. NSA enquiry crucial due to national implications."