Demonetisation effect: 23% drop in rural hiring under MGNREGA scheme
The huge cash crunch in the country following Prime Minister Narendra Modi's surprise announcement to demonetise higher currency notes has led to a sharp downfall in guarantee scheme jobs. The number of households getting work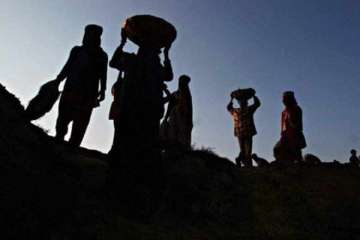 India TV News Desk
New Delhi
December 13, 2016 10:02 IST
The huge cash crunch in the country following Prime Minister Narendra Modi's surprise announcement to demonetise higher currency notes has led to a sharp downfall in  guarantee scheme jobs.
The number of households getting work in November dropped by 23% compared to the previous month and those being turned back empty-handed jumped to a staggering 23.4 lakh, almost twice the number in October. 
The work under the MGNREGA scheme is down 55 percent in November from the year-ago period, adds the article. 
Rural workers -- mostly farm hands and agricultural labourers -- couldn't find work owing to the squeeze on liquidity.
Compared to the same month last year, work given this November is down by over 55%, indicating this is not a seasonal decline peculiar to November, the report says.
Ideally, farmers receive their income deposited into their bank accounts or post office accounts. And yet the lack of enough cash has paralysed the rural folks.
With the reported return of thousands of migrants, the situation has worsened in rural areas as there is an army of unemployed in villages. Sowing for rabi (winter crop) is in progress but it cannot absorb everybody.This was the right time for the job guarantee scheme to open its doors wider and provide much needed relief.