Bhopal-Ujjain train blast a planned terror attack, confirms MP police; three arrested
At least nine passengers were injured after a blast reportedly took place in a coach of Bhopal-Ujjain passenger train near Shujalpur in Madhya Pradesh.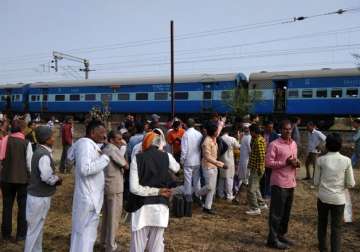 India TV News Desk
Shajapur
March 07, 2017 18:10 IST
At least nine passengers were injured when an explosion hit the Bhopal-Ujjain passenger train this morning, in what is suspected to be a terror attack. 
The explosion took place at around 10 am near Jabdi station in Shajapur district when the Bhopal-Ujjain 59320 passenger train was on its way to Ujjain, a railway official said.   
Makrand Devaskar, IG, Law & order, confirmed that the blast was a planned terrorist attack. 
Devaskar said it was an IED blast and three suspects have been arrested from Pipariya in connection with the attack. 
It was a IED blast, 3 arrested from Pipariya: Makrand Devaskar, IG Law & order, MP

— ANI (@ANI) March 7, 2017
MP's IG Law & order Makrand Devaskar confirms Bhopal-Ujjain passenger train explosion that took place today was a terrorist attack. pic.twitter.com/zzX2uBoltm

— ANI (@ANI) March 7, 2017
Meanwhile, a suspected terrorist, believed to be connected with the train blast, is holed up in a house in Lucknow. The Uttar Pradesh Anti-Terrorists Squad has cordoned off the Thakurganj area in the state capital and is trying to nab the suspect alive. 
The blast occurred in a general coach of the train between 9.30 AM and 10 AM when it was on its way to Ujjain from Bhopal, Railway PRO, Indore, Jitendra Kumar Jayant said. 
The PRO said that two coaches were damaged in the blast. They were separated from the train which later left for its onward journey. 
A bomb disposal squad soon reached the accident site, which is around 81 km from Bhopal. 
The two seriously injured persons were referred to a hospital in Bhopal.The others were undergoing treatment at a hospital in Kalapipal town, which is close to the accident site. 
Additional Director General of Police, Ujjain, Madhu Kumar and senior officials of Ratlam railway division have rushed to the accident site. 
The glass panes of the windows in the general coach were shattered in the blast, which occurred when the train was about to reach Jabdi station. 
The Jabdi station falls between Kalapipal and Sehore railway stations. Following the blast, the train came to a halt. 
Smoke engulfed the general coach, causing panic among the passengers who rushed out to save themselves. 
A relief train has been rushed to the mishap site, the PRO said. 
The Railways have made available helpline numbers for those seeking information about their relatives in the train. 
The numbers are:
Ujjain 0734-1072 and 0734-60906, 
Indore 0731-1072, 0731-2521044, 0731-2521045 and 0731-2521046, 
Ratlam 07412-1072, 
Nagda 07366-1072, 
Bhopal 0755-4001606 and 0755-56508 
Habibganj 0755-4001603 and 0755-55551