'Google boy' Kautilya stumps Super 30 with his exceptional knowledge
India's 'Google boy' Kautilya Pandit has once again dazed everyone in an interaction with Indian mathematician Anand Kumar and his pupils with his exceptional knowledge on the subjects including astronomy, comprehension and recall ability. Born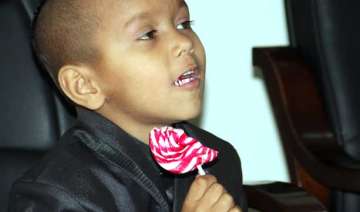 India TV News Desk
Patna
December 15, 2016 21:55 IST
India's 'Google boy' Kautilya Pandit has once again dazed everyone in an interaction with Indian mathematician Anand Kumar and his pupils with his exceptional knowledge on the subjects including astronomy, comprehension and recall ability.
Born on December 24, 2007, Kautilya has a remarkable memory. He has memorised the locations and geographical details of most of the major countries of the world, apart from the locations of major planets of the solar system.
The nine-year-old boy stumped everybody with his exceptional knowledge on a complex subject like astronomy, comprehension and recall ability.
For Anand, it was a revelation as Kautilya defied his age and interacted freely with him in accented English and Hindi.
"I am these days studying about astronomy and want to become an Astro scientist in life," the little genius said in the interaction at a Super 30 classroom in the presence of media persons.
Though just in class V at Bhavan Vidyalaya Panchkula (Chandigarh), he can reel out statistics, geographical locations and trivia as well as mathematical calculations as if all the information has been fed into him through a chip.
Even while talking about Mars, he has the latest update about the ongoing researches. 
(With inputs from PTI)