Fog cripples Railways, 26 trains cancelled for a month from Dec 17. Details here
Indian Railways on Sunday announced that 26 trains, which have been running extreme late due to dense fog in northern India, will be cancelled once a week for a month from December 17.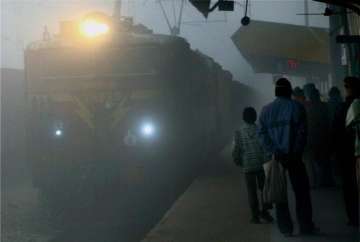 India TV News Desk
New Delhi
December 12, 2016 13:44 IST
A move that may add to the woes of rail passengers already reeling under heavy delays due to severe fog conditions, the Indian Railways on Sunday announced that 26 trains which have been running extremely late due to heavy fog in northern India will be cancelled once a week for a month from December 17 to January 15 in order to restore their punctuality.
"The move will help us streamline the timing of express/mail trains, which have been running inordinately late in the past few weeks," East Central Railway (ECR) chief public relations officer AK Rajak said.
The Patna Rajdhani Express, Sampoorna Kranti Express, Anand Vihar-Danapur Express, Patna-Howrah Janshatabdi, Patna-Ranchi Janshatabdi and Saharsa-Amritsar Express are among the 26 trains that will be cancelled.
The Railways has also cancelled seven mail/express trains originating/terminating/passing through the ECR zone for a month. This apart, 32 passenger trains plying in various divisions of the zone have also been cancelled for two months.
Fog disruptions lead to cancellation of thousands of trains every year and several accidents have been reported during the season in previous years.
Here are the details of trains cancelled: 
As per the weekly cancellation schedule, the Patna-New Delhi Rajdhani Express (12309) will remain cancelled on Tuesday and New Delhi-Patna Rajdhani Express (12310) will not ply on Wednesday. The Rajendranagar-New Delhi Sampoorna Kranti Express will remain cancelled on Wednesday and will not run from the national capital on its return journey on Thursday.
The Howrah Janshatabdi (12024) that shuttles between Patna and Howrah every day except Sunday will remain cancelled on Thursday on both up and down routes. Patna-Ranchi Janshatabdi (12365) that runs daily will not run on Friday every week. The Saharsa-Amritsar Express (15209) will not run on Sunday and on its return journey, the train (15210) will not ply on Friday.
Earlier, a Northern Railway official said 23 trains were rescheduled as the visibility dropped to 400 metres on Monday.
The 14005 Lichchvi Express was running 34 hours behind its schedule, 12459 Amritsar New Delhi Express was running 30 hours late and 12401 Islampur-New Delhi Magadh Express was delayed by 25 hours, the official said.
Meanwhile, according to the Delhi International Airport Limited, which manages operations at the Indira Gandhi International airport here, said no flight was cancelled on Monday.
While few of the international flights arriving in Delhi were delayed.