11th December News in Nutshell: Important stories of the day
Important stories of the day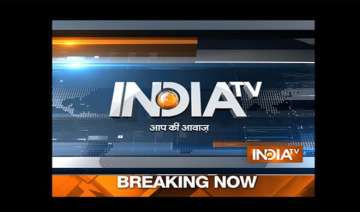 India TV News Desk
New Delhi
December 11, 2016 19:27 IST
National News
Mistry misled panel to become chariman, took advantage of free hand to weaken group: Tata Sons
In a fresh attack on its ousted chairman Cyrus Mistry, Tata Sons on Sunday accused him of misleading to get selected as Chairman, retracting on his promises, concentrating powers and using free-hand given to him to weaken management structures.
AgustaWestland scam: SP Tyagi drags Manmohan Singh, says PMO was part of decision
Dragging erstwhile Congress government into helicopter deal case, former IAF chief SP Tyagi on Saturday blamed former Prime Minister Manmohan Singh's office for changing the operational requirements of choppers for Indian Air Force's VVIP squadron favouring AgustaWestland.
Watch: Helicopter crashes in Mumbai's Aarey Colony, one killed and three hurt
A private helicopter on a joyride crashed and erupted into a fireball, killing the pilot and injuring three others, at an isolated spot in the Mumbai suburb Goregaon on Sunday.
Will end 'gundaraj' in UP if voted to power: PM Modi promises at 'Parivartan Rally'
Prime Minister Narendra Modi on Sunday said that he would end the 'gundaraj' (lawlessness) in Uttar Pradesh if the BJP is voted to power in the state in the coming assembly elections early next year.
Chennai, parts of Andhra to receive 'very heavy' rain in next 24 hours due to Vardha: Met dept
Several parts of north Tamil Nadu, including Chennai, and south Andhra Pradesh coast will receive heavy to very heavy rain starting Sunday evening due to a severe cyclonic storm – Vardah, Met officials said
International News
At least 60 killed as crowded church collapses in Nigeria
At least 60 people were killed when the roof of a crowded church collapsed onto worshippers in southern Nigeria on Saturday, witnesses and an official said.
29 killed, over 160 wounded in twin bombings near Istanbul soccer stadium
At least 29 people were killed and 166 wounded in a twin blast outside a major soccer stadium in Istanbul on Saturday night.
45 soldiers killed, 50 wounded in suicide bombing attack Yemen army base
A suicide bomber blew himself up inside an army base in the southern city of Aden on Saturday, killing 45 soldiers and wounding another 50, security officials said.
Business News
SBI to soon launch credit card with Rs 25,000 limit to tap low-income individuals
At a time when cash crunch gripping the country these days, public sector bank SBI has decided to launch a credit card with a cap of Rs 25,000 for those at the lower strata of the society, a top company official said.
'Digital to digi-dhan': NITI Aayog plans lucky draws to encourage e-payments
In a bid to encourage electronic payments and nudge the society to move from "digital to digi-dhan," NITI Aayog has proposed an award scheme to incentivise people using digital mode for making payments through weekly and quarterly lucky draws.
Indian Railways begins free accidental insurance cover of Rs 10 lakh for tickets booked online
In a bid to promote the cashless transaction post demonetisation of Rs 500 and Rs 1,000 currency notes, the Indian Railways on Saturday started giving free accidental insurance cover to the passengers who booked their tickets through online mode, IRCTC officials said.
Entertainment News
National Film Awards: New category of 'Best Stunt Direction' from next year
Stunt directors will now get recognition for extraordinary work in form of National Awards as the Information and Broadcasting Ministry has decided to institute a special prize in this category.
Truly beyond words', says Bob Dylan in Nobel Prize speech; alludes to Shakespeare
American singer-songwriter Bob Dylan was stunned and surprised when he was told that he had won a Nobel prize and has thanked the Swedish Academy for including him among the "giants" of writing.
Dilip Kumar turns 94; Need prayers for him to recover, says wife Saira Banu
Veteran actor Dilip Kumar, who turned 94 on Sunday, will have a low key birthday celebration in hospital where he is currently recovering after being admitted following illness.
Sports News
Ind vs Eng, 4th Test: Virat Kohli's double ton put India on top, England on verge of losing
England were 182/6 in their second innings, trailing India by 49 runs at stumps on day four of the fourth Test at the Wankhede on Sunday.
Shami, Saha ruled out of fifth Test against England due to injuries
India's leading pace bowler Mohammed Shami and regular wicket-keeper Wriddhiman Saha were on Sunday ruled out of the fifth and final Test match against England because of their injuries.