23rd December News in Nutshell: Important stories of the day
Important stories of the day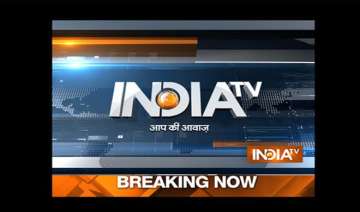 India TV News Desk
New Delhi
December 23, 2016 18:47 IST
National News
Hijacked Libyan plane with 118 on board lands in Malta
A hijacked Libyan ​aeroplane with 118 passengers on board has landed at the Mediterranean island and that there appear to be two hijackers on board, Malta airport authorities said.
'Wanted to quit three years ago,' says Jung as he meets PM Modi
A day after tendering a surprise resignation as Delhi's Lieutenant Governor, Najeeb Jung today called on Prime Minister Narendra Modi at the Prime Minister's Office (PMO) around 11.30 AM and spent a little over an hour with the PM.
Sting CD case: CBI summons Uttarakhand CM Harish Rawat for second time
Uttarakhand Chief Minister Harish Rawat has been asked to appear before the Central Bureau of Investigation (CBI) on December 26 again in connection with a probe into the purported sting operation involving him.
IT dept raids Kotak Bank branch in Delhi, detects 9 fake account with Rs 34 cr deposits; 2 held
The Income Tax department today conducted raids at the office of Kotak Mahindra Bank at Kasturba Gandhi Marg in the national capital and detected 9 fake accounts with about Rs 34 crore in deposits.
Was RBI given enough time to discuss note ban, Manmohan Singh asks Parliamentary panel
Former Prime Minister Manmohan Singh has suggested to the Parliamentary Panel on Finance that before hearing RBI Governor Urjit Patel, it should first find out whether the Reserve Bank of India was given sufficient time to hold deliberations on the government's demonetisation move.
International News
Berlin Christmas market attack suspect killed in shootout in Italy, says local media
Two days after the truck attack on a Berlin Christmas market that left 12 people dead, the suspect behind the carnage is believed to be shot dead in a shootout in the northern Italian city of Milan.
Hillary Clinton wins popular vote by 29 lakh margin, widest for any losing presidential candidate
Hillary Clinton, who suffered electoral loss to Donald Trump last month, has surpassed the President-elect in the national popular vote.
India should accept Pakistan's offer of joining CPEC: Chinese media
After a top Pakistan Army Commander invited India to join the China-Pakistan Economic Corridor (CPEC) project, the state-run Chinese media has advised India to accept the offer in order to boost its exports and realise its dreams of becoming a greater economic power.
Business News
After Tata Steel, Nusli Wadia voted out from Tata Motors
A day after his removal from the Tata Steel's board, over 71 per cent shareholders of Tata Motors voted out Nusli Wadia as the Independent director of the company.
Google, Railtel roll out free Wi-Fi service at 100th railway station
Google, in collabration with Railtel, on Thursday rolled out free WiFi service at Udhagamandalam (Ooty) station in Tamil Nadu, taking to 100 the railway stations where it offers high speed internet to an estimated 10 million people.
India unsuccessfully lobbied for an upgrade by ratings agency Moody's: report
With a few months left for Moody's sovereign ratings, it has emerged that the Indian government had aggresively pitched for an upgrade, even questioning the methodology followed by the credit ratings agency.
Entertainment News
Sunil Grover writes open letter to PM Modi, urges him to get Dawood Ibrahim nabbed
Comedian-actor Sunil Grover has in an open letter to Prime Minister Narendra Modi, urged him to get the underworld don Dawood Ibrahim nabbed and expedite the process of his trial for his involvement in the 1993 Mumbai blasts.
'Sultan' on 'Dangal': Salman says 'Hate you', Aamir says 'But I Love You'
The much anticipated movie of the year 'Dangal' starring superstar Aamir Khan is all set to hit the theatres today. Though, the film has already managed to impress critics in its special screening, now superstar Salman Khan has something sweet to say to Aamir.
Rajinikanth's younger daughter Soundarya files for divorce
Superstar Rajinikanth's younger daughter Soundarya who took wedding vows with Industrialist Ashwin Ramkumar in 2010, has today filed a divorce petition in a family court. The lady, who has a one-year-old son, Ved with her husband has taken this decision owing to their different opinions.
Sports News
'Injured' Shiva Keshavan braves odds to win gold at Asian Luge Championship
In a proud moment for India, the country's seasoned Winter Olympian Shiva Keshavan braved an injury to clinch a gold medal at the Asian Luge Championship in Japan on Friday.
Security beefed up at MCG following arrest of seven people planning terror attacks
Security has been beefed up at the Melbourne Cricket Ground for the Boxing Day Test match between Australia and Pakistan following the arrest of seven people over a terror-related plot in the city.