Watch: In record attempt, Tamil Nadu student swims 5 km with hands and legs tied
In a daring feat, a 19-year-old college student hailing from a fisherman's family in Tamil Nadu swam five kms in the Bay of Bengal with his and legs bound with an iron chain. Eyeing a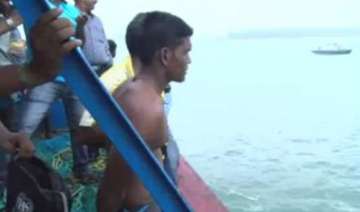 India TV News Desk
Nagapattinam
March 03, 2017 19:53 IST
In a daring feat, a 19-year-old college student hailing from a fisherman's family in Tamil Nadu swam five kms in the Bay of Bengal with his and legs bound with an iron chain.
Eyeing a Guinness world record, S Sabarinathan covered the distance yesterday in two hours, 20 minutes and 48 seconds, District Sports Officer B Siva said.
The earlier record was set by 37-year Gopal Kharvi in Malpe beach in Udupi in Karnataka in 2013 by swimming 3.07 kms with handcuffs and leg shackles in two hours 43 minutes.
The Guinness record attempt by Sabarinathan was done as per the guidelines set by the Guinness committee with prior approval from the district administration and police, Siva said.
Sabarinathan's attempt has been videographed from start to finish and has been sent to the Guinness committee, he added.
(With inputs from PTI)